The Chainsmokers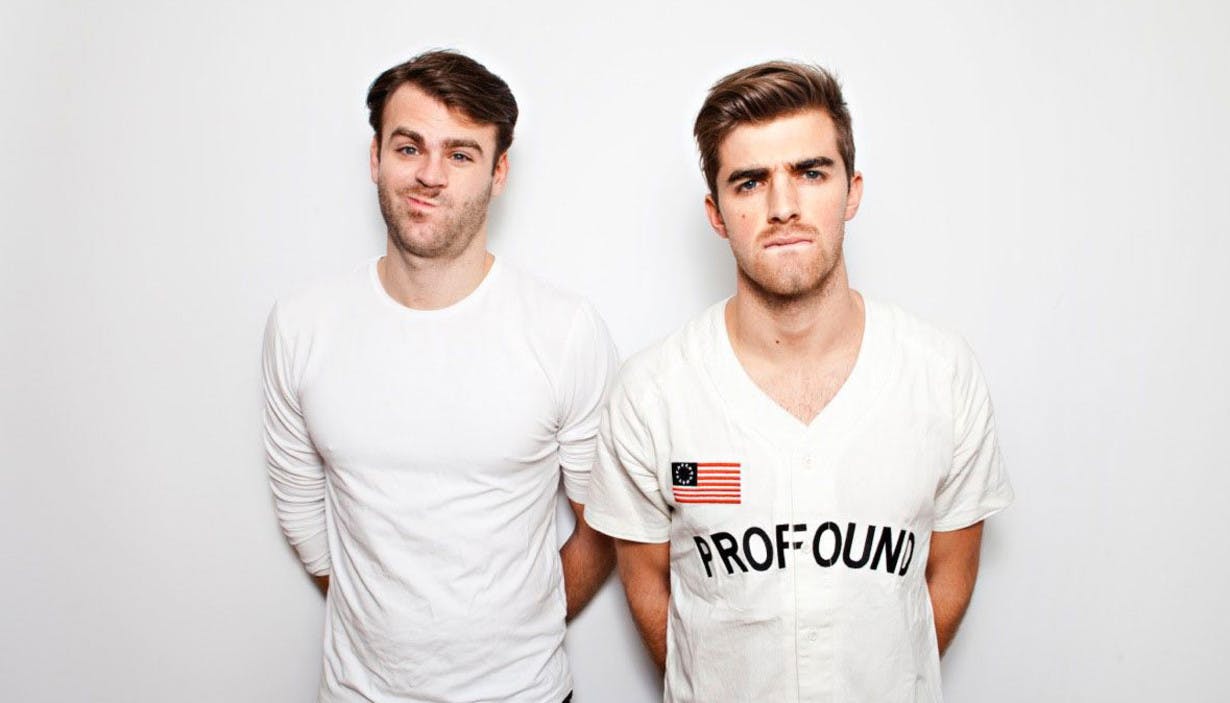 The Chainsmokers first found fame when their single "#Selfie" went viral, and two years on the NYC-formed DJ duo are well on their way to world domination. We sat down with Andrew Taggart and Alex Pall to hear how they're managing their new-found notoriety and to talk collaborations and outstanding ambitions.
It's been quite a 12 months for you guys. Can The Chainsmokers still walk around undetected?
Andrew Taggart: I had a really funny experience the other day. We were in Milan and we went to the Duomo with Rory, our videographer, and this group of girls with Spanish accents comes up, like, "Take a picture, take a picture!" So I get in this photo with them and they're all looking at me like, "Who is this guy?" And Rory is obviously filming the whole thing because he realises it before I do, and I look like such an a**hole. They're just like, "Ah, we don't want a photo with you," and they're all laughing at me. (Laughs)
Alex Pall: Didn't they realise later?
AT: Yeah, then Rory and I posted photos later and they were commenting on the photo like, "Oh my god! We just realised who you guys are." But I still feel like an a**hole.
AP: That's kind of the theme for our existence. Like, "Oh my god, it's you guys! Didn't realise it!"
Do people actually get your names right?
AT: No, I'm Alex. I'm always Alex.
AP: If they call me Drew, I just say something really rude.
AT: I went to see Kygo at ACL after our show, with my parents and my cousins, and we were walking back on the artist side of things, and all the fans are leaving, and one kid is like, "Alex! Alex! Get over here, I need a photo!" And I'm like, "I'm not Alex," and he's like, "Yes you are! You're Alex! Get a photo with me!" And my mom's dying laughing at this. It doesn't make you want to take a photo, even though you know it's just a common mistake. I mean, they realised it was The Chainsmokers, but you're like, "No, you have to get it right."
How are you finding this level of fame? Is it what you expected?
AP: We've talked about this a lot recently. We've gotten into this for the music, and that's what it's all about. Lately it feels like it's gone away from that. The music's obviously doing amazing but the new-found success of all this attention – headlines, being taken out of context, the whole web of media – that's new to us. That can be a little frustrating and disheartening at times because we really take pride in our music and how hard we work. To have that stuff overshadowed by being misrepresented or misquoted or saying something dumb... No-one's cared about what we've said for 30 years, in my case; Drew's 26. So it's new and weird so I don't even know if we should be doing this [promotion]. We want to do it because we want people to know who we are, and get our message across, but it seems like we suck at giving our message.
AT: We just talk too much. I'm from New York, I'm very talkative and like speaking my mind, so it's weird to me to have to think about things before I say them now.
AP: Even the way you say them. You will say something totally nice and friendly, but when you just take that part of the sentence, and then you write about me in this way, it sounds totally different. So we try to do stuff on camera now.
We saw Bebe Rexha name-checked you guys in an interview recently. She's going to be hosting the MTV EMAs in Rotterdam, you know?
AT: That's an amazing gig. I didn't even know she was even into that sort of thing, but she's so personable though. I think she'll do a really good job. It's funny, we always give each other sh*t. Four years ago, her and I were in a session together and it was before anything happened for either of us, and we argued with each other because I was like, "I'm never gonna do a record deal unless I have a big hit single," and she was like, "Yeah that's never gonna happen," and then "#Selfie" came out. She was like, "I think have a song that Rihanna and Eminem are gonna sing," and I was like "Yeah, ok..." Sure enough, 'Monster' came out. So now we always give each other sh*t for doubting each other. She's the best. Her new song "In The Name Of Love" is awesome.
Could a collaboration be on the cards?
AP: We're always like, "We should do a song together," but every time we get in the room together we get 20 unfinished tracks.
AT: I mean, we've tried before. But what I think that's cool about us is that we've done sessions, we've sent her tracks to write to, and vice versa, and it just hasn't clicked. Neither of us have given up, it's just that we both recognise when there's something great and can move forward with it. If we were to do a song together it would have to be nothing short of that, so we're just waiting for that inspiration to come along.
You're known for breaking new artists, but would you be open to working with more famous vocalists?
AT: We would, for sure. What we look for in collaborations is someone who's authentic. When they're a superstar there's an overarching, preconceived notion about who that artist is and what the track could be. When it's someone who's lesser known, the track can just be the track. The track has its own identity.
But then artists like Justin Bieber manage to straddle that divide pretty well
AT: For sure. The thing for us, also, is that he's worked with a tonne of other producers in our field – Diplo, Major Lazer, DJ Snake, Skrillex – and produced great tracks with them. I'm sure he has some other stuff in the pipeline.
Are film soundtracks on the to-do list?
AP: For sure. I wish we could have been on the 'Suicide Squad' soundtrack. All the songs were so dark and badass.
AT: We have two dope songs that would be ill for '50 Shades of Grey 2', but I don't know the politics of stuff behind the scenes, in terms of labels and what studio has what project. The songs we have would be perfect for that. But to me, I like songs in movies that perfectly capture the movie, like Celine Dion in 'Titanic'. Obviously that's a really lame example, but it's a perfect one.
AT: I like 'The Fast and the Furious' Charlie Puth one.
AP: Yeah, yeah, exactly.
AT: I could have cried at that part. Oh f**k, this is on the record and Charlie's gonna hear this. We're really good friends with Charlie Puth, and we give each other sh*t, but I did cry when his song came on in 'The Fast and the Furious'. I can't believe I cried at 'The Fast and the Furious'! (Laughs)
You're sensitive souls, then?
AT: Oh yeah, I cry a lot. I don't cry in life but I cry when I listen to music and I cry when I watch videos especially.
It must be difficult marrying that sensitive side with developing the thick skin you need to survive?
AT: We are sensitive people. But what gets us through the hard stuff is that we have the best team ever. We all started this together, we've been doing this before any of us were successful and we're all experiencing this together. I think that keeps you grounded. We have the same girlfriends, the same family that we're really close with, the same homies – it's such a real thing.
AP: I feel like I'm a Coke bottle that's been shaken: I've compartmentalised everything and when the lid pops off I'll kill everyone. (Laughs)
Was there ever a stage, pre-fame, when you considered quitting?
AT: No, because, like, what else are we gonna do? (Laughs) Because that's the reality of it. There have definitely been moments with highs and lows, just in terms of morale and momentum. When we got dropped from our first label, that was a low moment, but it wasn't like, "Let's quit." It inspired us to work harder and the team of people around us picked us up and we got moving, and now here we are.
What's the one thing you miss about normal life?
AP: Sunday brunch. The idea of waking up on a Sunday at home, which is literally impossible, and going to the best Bloody Mary spot and then getting back into bed and passing out. In New York, those were always the best days: you wake up, you go have brunch, you spend the day walking around the city, popping in and out of places. That was just awesome. Now we spend 38 weeks in Vegas per year. (Laughs) And play another additional 100 shows on top of that. So brunch is on hold for a couple of more years.

But it must help being in it together?
AT: Yeah, definitely. I feel like a lot of DJs who travel alone get depressed. I would hate to be alone, even though in the morning we won't even speak to each other until, like, noon, because we hate the mornings. Just knowing that you're at least in it together – experiencing the same stuff – that makes the bad parts more bearable. But it's mostly good stuff.
October 2016