Bully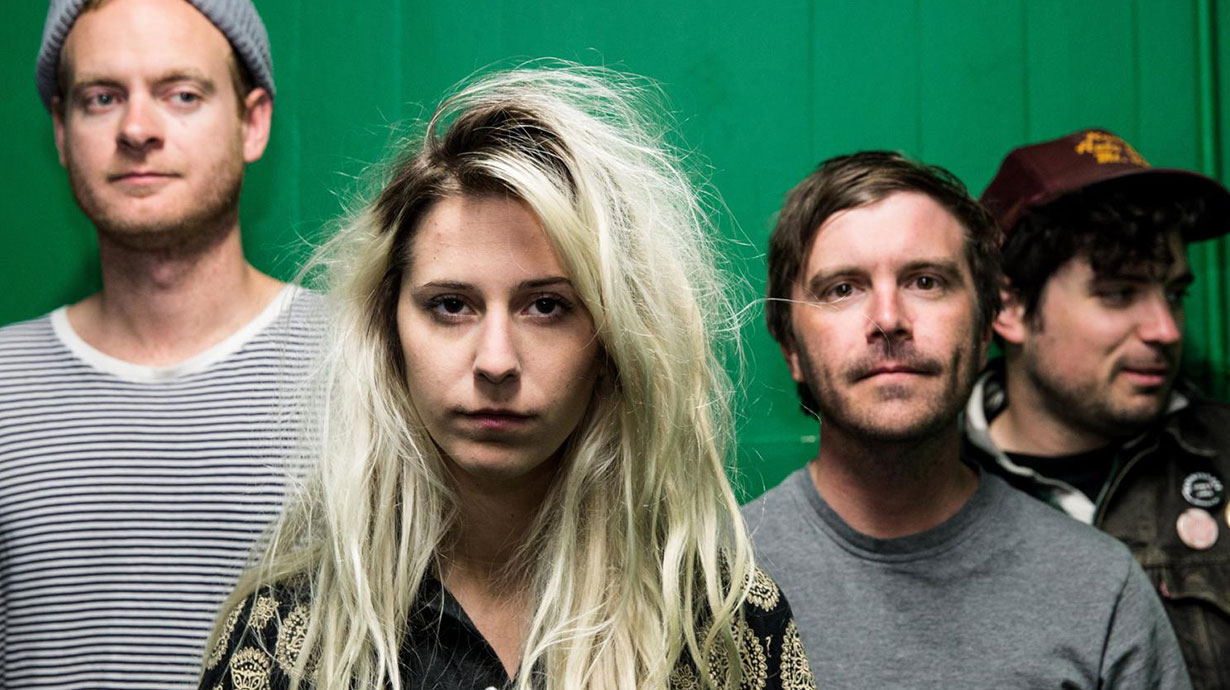 Nashville-based grunge-rockers Bully just dropped one of the most exciting debuts of 2015. We caught up with band leader Alicia Bognanno to find out more about it, and to talk interning with Steve Albini.
Hey Alicia, can we talk a bit about your musical background, please? What's your earliest musical memory?
I guess when I was little I used to write lyrics and melodies; that's pretty much my musical background.
Who were the first artists that you got into?
When I was a kid it was Ace of Base and Motown, and whatever was on the radio. And then when I got older it was just stuff that most people listen to in college, like Pixies and Sonic Youth and The Breeders.
You trained as an audio engineer, right? How did you get into that?
When I was in high school, there was an alternative school that would offer programmes that you couldn't find at a typical public school. They gave opportunities to kids in their junior and senior years to pick a class to go study over there, so I took an audio engineering class. I mean, it was just a little studio set-up – with a bunch of computers that had recording software – so it was really a very introductory course. I don't think we even covered signal flow, I was just messing around on the software. But it showed me that [audio engineering] is a thing you could do if you like it, and I really loved it. So my teacher from that class told me about MTSU – which is the college I went to in Tennessee – where you can get a four-year Bachelor of Science degree in audio engineering.
So you met the other members of Bully at college?
Yeah, I met Stewart – who is now our drummer – when I was in college. He had asked me to sing for his band so I did that for a while. I think he heard that I sang just through word of mouth, so he called me up. And when I started writing stuff on my own, and realised I wanted to do work on that, he was like, "You should just do your band, I'll play drums for it." And then Stewart and Clay [Parker, guitar] have been been really good friends for a while, and Reece [Lazarus, bass] I know from a venue in Nashville that he books at.

How does the creative process work in the band?

Well, I write the songs, either bringing the band fully finished songs, or ideas that we'll work on it together. Usually everyone writes their own instrument parts, whereas with the old Bully stuff, I did both guitars on the recordings.
So let's talk more about your debut. When do the songs on Feels Like date back from?
Apart from some of the songs that were on the EPs, the rest of the material was all written when Bully was a band; so maybe in the past year and a half or something?
Was there anything about the creative process that you consciously approached differently from that of the EPs?
Yeah, I wanted to make sure that we had a record that we could also deliver live. I didn't want to bring in stuff that doesn't happen at the live show, extra keyboards or stuff like that. I just wanted to keep it how the band actually is. So we tracked it with the drums in the drum room and then the guitars and bass in another room, at Electric Audio.
Electric Audio is Steve Albini's studio, right? How did that come about?
Well I interned there a couple summers back and, because we had the budget to go outside of Nashville, I just wanted to go there because I was comfortable and somewhat familiar with the studio. Plus I knew that I wanted to record it to tape. So yeah, it's a nice place to record.
For the benefit of anyone yet to hear Feels Like, what can they expect?
It's a fast, energetic record for the most part, and pretty heavy in places. But there's also places where it's not so heavy... (Laughs) I don't know how to describe it.
Lyrically, it's a pretty raw and personal record. Was writing it cathartic?
I don't know. It definitely feels good to be natural and honest. I'm not going to sing about something that's not going on, or that I can't relate to, or that doesn't bring out any emotion, because that just makes it really hard. Equally, if there's stuff that I wasn't comfortable with sharing then I just wouldn't.
Looking back on the record now, do you see any themes that connect the tracks on the record?
Not really. But also, I can't really step away from it, because we've been playing those songs. I just know that I didn't intentionally have any themes to link everything together, and that each song is about a different experience or situation. In terms of the title, I think since most of the Bully record is about personal experiences and how they feel, "Feels Like" just felt honest. It's a record of a lot of emotions. (Laughs)
Is there anything that you've learned about yourself as a musician in the making of this album?
I think I'm constantly trying to figure it out. Everything has been a rush, and we've been pretty much on the road ever since we finished the record. But I am definitely always learning, especially on the engineering side. And that was the whole point of engineering it myself; I wanted to learn and to figure out what I wanted to do differently.
Also, I remember trying to write lyrics, just writing stuff down and then crossing it out, writing stuff down and then crossing it out. It's so easy just to scratch stuff down, and then get the chorus not really working with the verse. I had to stop and think, "What am I really trying to say? Just say it, and don't try and cover it up. Be direct." So just learning how to do that was a big part of this record and, I think, probably pretty important to me as a songwriter.
So how long did the record take to make altogether?
We did it in 21 days. We did seven days of full-band tracking, then I did vocals, messed around with some guitar stuff for a couple of days and then I mixed it. Every now and then I would bring our really awesome engineer, Jon San Paolo, in when I was close to being done, just to ask, "Is anything sounding crazy to you?" Just because I was so involved it's hard to step back. We completed the album in November 2014 and then two or three days before Christmas I went back and re-mixed two songs.
And ever since you've been touring?
Yeah, pretty much. In August we have a three-week break, and in July we have a two-week break. And then we're pretty much gone until Christmas... (Laughs) But I do really enjoy touring, and we all believe in the record.
Beyond this year, do you have any longer-term goals?
I'm excited to have some time to write another record. But my goal is just to have fun and keep on writing music that we enjoy playing.
June 2015