Trilogy (Explicit Version)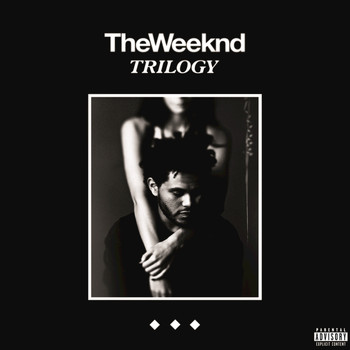 Explicit Content
Preview Trilogy (Explicit Version)
Record Label:
CP Records Inc.
7digital

While there's no denying that

Drake

and

Frank Ocean

have played starring roles in the current R&B resurgence, Toronto's

The Weeknd

deserves some serious credit too. Blending woozy, bedroom beats with silky vocals – and surprising samples of everyone from

Siouxsie Sioux

to

Aaliyah

– Abel Tesfaye's first mixtape sent the blogosphere into overdrive in 2011, and House of Balloons wound up being voted one of the year's best albums by Pitchfork and The Guardian. A year on, Tesfaye has two further albums and a pair of Polaris Prize nominations to his name, and this compilation rounds up all his excellent efforts to date with three new songs.
Disc 1 of 3

Track Number
Track Title
Track Length
Track Price/Buy Link
1

High For This (Album Version)

by The Weeknd

4:07
2

What You Need (Album Version)

by The Weeknd

3:16
3

House Of Balloons / Glass Table Girls (Album Version (Explicit))

by The Weeknd

6:45
4

The Morning (Album Version (Explicit))

by The Weeknd

5:12
5

Wicked Games (Explicit)

by The Weeknd

5:24
6

The Party & The After Party (Album Version (Explicit))

by The Weeknd

7:39
7

Coming Down (Album Version)

by The Weeknd

4:55
8

Loft Music (Album Version (Explicit))

by The Weeknd

6:04
9

The Knowing (Album Version)

by The Weeknd

5:40
10

Twenty Eight (Album Version [Explicit])

by The Weeknd

4:18
Disc 2 of 3

Track Number
Track Title
Track Length
Track Price/Buy Link
1

Lonely Star (Album Version (Explicit))

by The Weeknd

5:49
2

Life Of The Party (Album Version)

by The Weeknd

4:56
3

Thursday (Album Version)

by The Weeknd

5:20
4

The Zone (Album Version (Explicit))

6:59
5

The Birds Pt. 1 (Album Version)

by The Weeknd

3:34
6

The Birds Pt. 2 (Album Version (Explicit))

by The Weeknd

5:51
7

Gone (Album Version (Explicit))

by The Weeknd

8:07
8

Rolling Stone (Album Version (Explicit))

by The Weeknd

3:51
9

Heaven Or Las Vegas (Album Version)

by The Weeknd

5:53
10

Valerie (Album Version)

by The Weeknd

4:47
Disc 3 of 3

Track Number
Track Title
Track Length
Track Price/Buy Link
1

D.D. (Album Version)

by The Weeknd

4:35
2

Montreal (Album Version)

by The Weeknd

4:11
3

Outside (Album Version (Explicit))

by The Weeknd

4:20
4

XO / The Host (Album Version (Explicit))

by The Weeknd

7:24
5

Initiation (Album Version (Explicit))

by The Weeknd

4:21
6

Same Old Song (Album Version (Explicit))

5:12
7

The Fall (Album Version)

by The Weeknd

5:45
8

Next (Album Version)

by The Weeknd

6:00
9

Echoes Of Silence (Album Version)

by The Weeknd

4:00
10

Till Dawn (Here Comes The Sun) (Album Version)

by The Weeknd

5:20
Duration:

2:39:35